Trend Micro Titanium Antivirus + Security is antivirus software that protects against viruses and spyware, as well as other malware: keyloggers, hackers, operating system exploits, dialers, malicious scripts, ransomware, email attachments, malicious ZIP files, Trojan horses, rootkits and worms. Independent test lab AV-Test certifies Trend Micro on Windows 7 and Windows 8. In fact, it scored well in protection, performance and usability tests.
It is mid-priced Internet Security suite that does not only guards against major online threats, but also adds an integrated file shredder, a performance optimizer and a comprehensive approach to dealing with ransomware. But while it's one of the fastest and most thorough ways to clear a computer of malware, it can slow down a system during malware scans and had a noticeably large number of false positives during malware tests.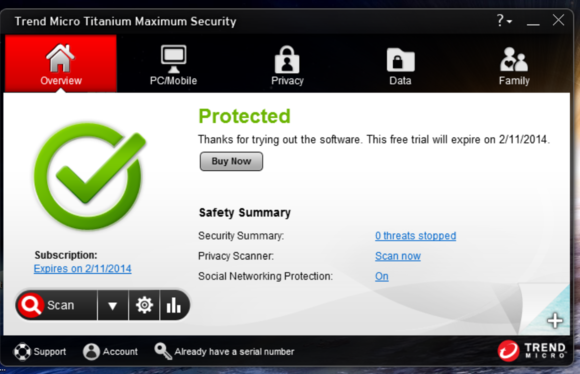 Install and Scan
During the install process, you'll paste in your registration code to activate the product. At a later point, you'll enter your email address to create a Trend Micro account online, or to connect with an existing account. Once the setup was complete, the main window reported that I had the latest protection. However, clicking the words "latest protection" installed a few updates.
The initial scan on my standard virtual machine test system took 51 minutes, rather longer than the current average of 31 minutes. However, a repeat scan took just 2.5 minutes, because the scanner was able to skip verified safe files. If you want a full scan that for-sure scans every file, you can choose the Hypersensitive protection level in the settings. Note, too, that if 24 hours have elapsed since the last scan, Trend Micro will again scan every file.
Trend Micro's malware engine not only ferrets out problems in a system's memory and hard drive, but also looks out for rogue programs by using real-time behavioral analysis of unknown code running on the computer. As with all other antivirus products we review, we relied on tests conducted by German independent lab AV-TEST, which pitted Trend Micro Internet Security and about 20 other products against thousands of pieces of malware in tests conducted in the spring and summer of 2015.
Security Features
Trend Micro has dedicated tools for dealing with ransomware, which generally either locks a computer's screen, or encrypts a computer's files, before demanding a ransom so that the user can regain access. Against screen-locking ransomware, Trend Micro's tools (also available for free download) can bypass the locking mechanism even if rebooting the PC in Safe Mode doesn't work.
To defeat encrypting ransomware, Trend Micro's paid products monitor the system for encryption attempts, then back up the targeted files before encryption occurs, Trend Micro also tries to stop the encryption process if the encrypting software looks suspicious. This is different from Bitdefender's anti-ransomware tool, which pre-emptively locks down user-designated files so they can't be encrypted.
Unlike some mid-range products, Trend Micro Internet Security 10 comes with a file shredder called Secure Erase. It lets the user choose between a Quick Erase, in which only the file-allocation-table entry for the file is deleted, and a Permanent Erase, in which the file is overwritten with random bits. Unfortunately, it doesn't give you a choice of which recognized erasure algorithm to use.
Got kids at home? Trend Micro's Parental Controls will help you take charge of what they see and do on the computer. Whole categories of dangerous and objectionable websites, such as Adult and Sexual, can be manually excluded; alternatively, you can just enter the age ranges of your children and let Trend Micro do the rest. Password-protected controls let you set up a schedule of online and gaming use.
Like many antivirus companies, Trend Micro has a free tool to create a rescue disk from a CD or USB drive, but you'll have to download and install it separately.
Trend Micro has a password manager that covers up to five passwords for free, but it's not built into Trend Micro Internet Security — you'll need to download and install the software yourself. The company also offers an unlimited version that covers you for a year for $15, or two years for $25.
That said, Trend Micro Internet Security isn't a perfect defense against malware. It lacks the webcam protection offered by Kaspersky, or any kind of hardened Web browser that can make online browsing, shopping and banking much less dangerous.
Privacy Features
Trend Micro Internet Security 10 has a full privacy section that could compete with those of premium packages. Its Privacy and Web-browser scanners look through your Facebook, instant messaging, Twitter and Google+ settings for ways that your personal data might be compromised. To get it to work, though, you'll need to enable an extension or add-on for Internet Explorer, Chrome or Firefox.
Performance Optimization
Trend Micro includes a lot of performance-optimization tools with its Internet Security suite, and it's the only mid-priced product we recently reviewed that does so. Each full or quick scan ends with a system-optimization process that includes rearranging the system's startup files, checking for Registry problems, and deleting unneeded and duplicate files.
There's nothing comparable to Kaspersky's in-depth array of fever charts and graphs that show the system's resources, but at any time, you can run a quick PC health-check scan in Trend Micro Internet Security 10. For our Asus laptop, the health check took 15 seconds and identified security holes, recovered disk space and aimed to cut the system's startup time.
It took Trend Micro Internet Security 41 minutes and 21 seconds to run its first full scan of the system, during which time it indexed the system's files, prioritized potential threats and optimized the system. The next couple of full scans flew by in an average of 3:25, while quick scans took an average of 44 seconds.
Those very fast scans had a noticeable impact on the system's performance, however. During a full scan, the completion time of our OpenOffice benchmark test slowed down by 46 percent from a baseline of 6:50 to 9:57. That's on the longer side of the six products we recently evaluated, whose system slowdowns ranged from 10 percent (Bitdefender Internet Security) to 82 percent (McAfee Internet Security). During a quick scan, the OpenOffice test took 8:09, a performance hit of 20 percent and just edged out for slowest by McAfee, which had a 21-percent impact.